Steven Rhodes Games Are DYNOMITE!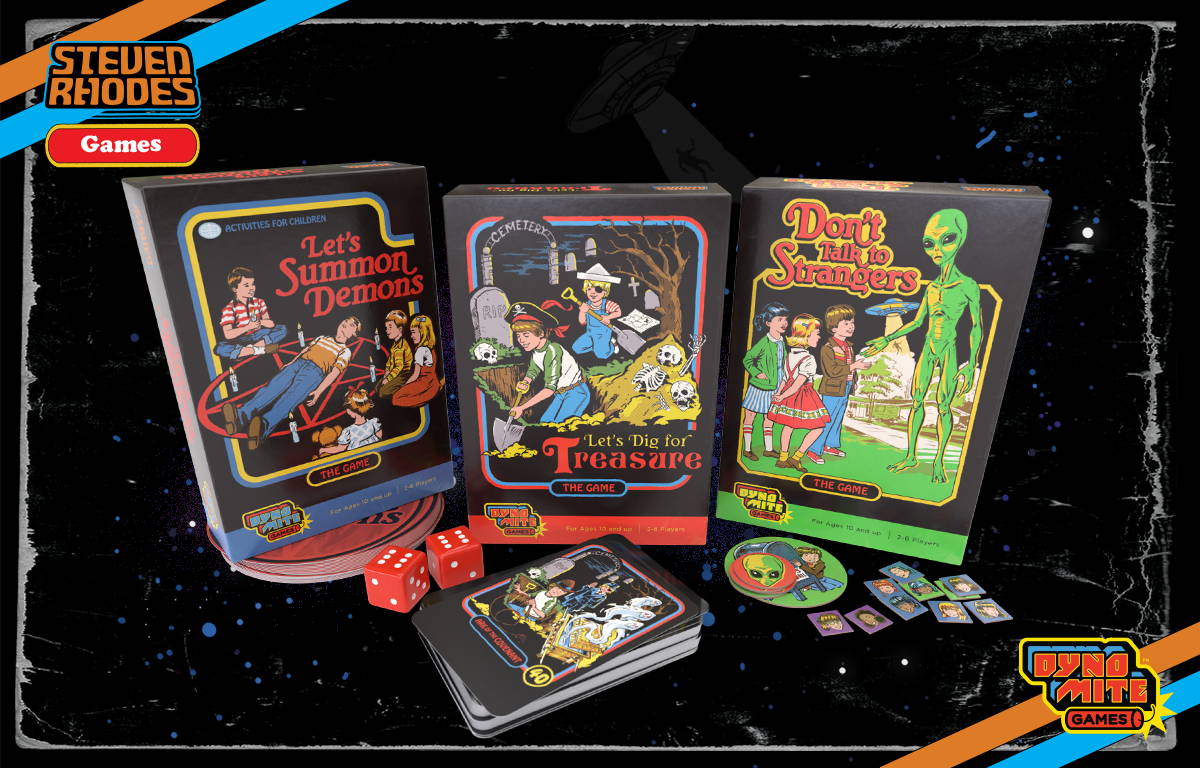 Hello, fans of fun, funny, and fast-paced gaming! I am super proud to talk about our DYNOMITE Games partnership with the incredibly hilarious graphic artist and illustrator Steven Rhodes! First, let me give you the lowdown on DYNOMITE Games: It's a fun little sub-brand of titles from Cryptozoic Entertainment that focuses on bringing core hobby gaming mechanics to casual board game players.
How many times has this happened to you: You want to play games with some friends who are willing, but they are probably not ready for 20+ minutes of rules learning. Rather than suggesting super-simple party games, you can break out a bite-sized game that includes REAL strategy elements and rules that can be taught in less than 5 minutes! That's right: Our three Steven Rhodes games feature real hobby gaming mechanics in easy-to-understand and fun-to-play game experiences. AND with any luck, these gateway games will get your friends to sit quietly as you spend a half an hour teaching them some of the other games that you've been dying to find players for!

So who is Steven Rhodes? If you don't know the name, I am pretty sure you already know the art. He is a graphic artist and illustrator best known for his offbeat reimagining of children's activity books from the '70s and '80s, resulting in art with a decidedly dark (and very hilarious) twist. His popular work ranges from the classic Let's Summon Demons, featuring a group of youngsters preparing for a little quality time with the Devil, to the sharp stabby kids of My First Knife Fight. All of his takes on kids' literature from a bygone era are pretty damn funny. With DYNOMITE games, we have selected three classic Steven Rhodes works as the basis for the first collection of our games.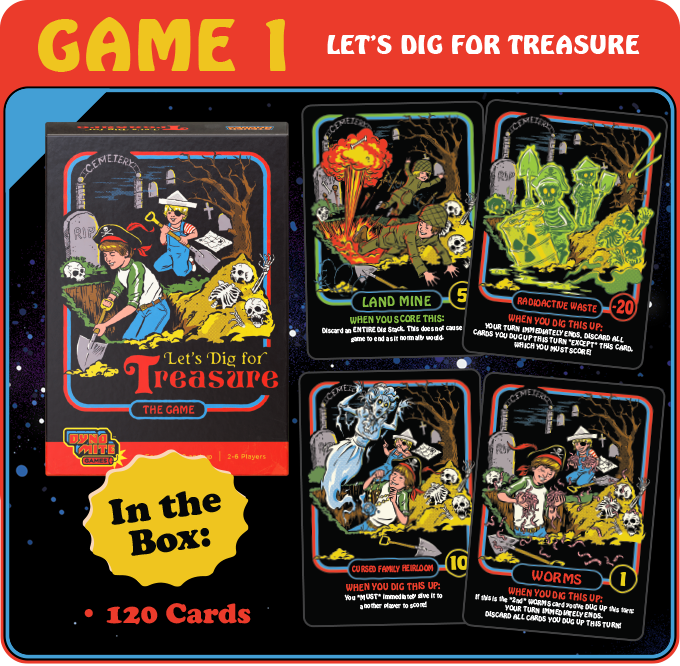 The first game is Let's Dig for Treasure.
Join these rascals as they "dig for treasure" in one of the most inappropriate places possible! It's a fresh take on the press-your-luck mechanic as you shuffle up the cards, put them into three stacks, and "dig" for treasure! There are tons of fun treasures and combos, but be sure to stop digging and score your points before you hit too many worms or even worse… the Evil Skeleton! Play continues until one stack is depleted and then it's time to add up the scores; whomever has the most treasure wins the game! It's simple enough, but there's great tension and strategy. It's an addictive experience that will keep you saying, "Just one more game!"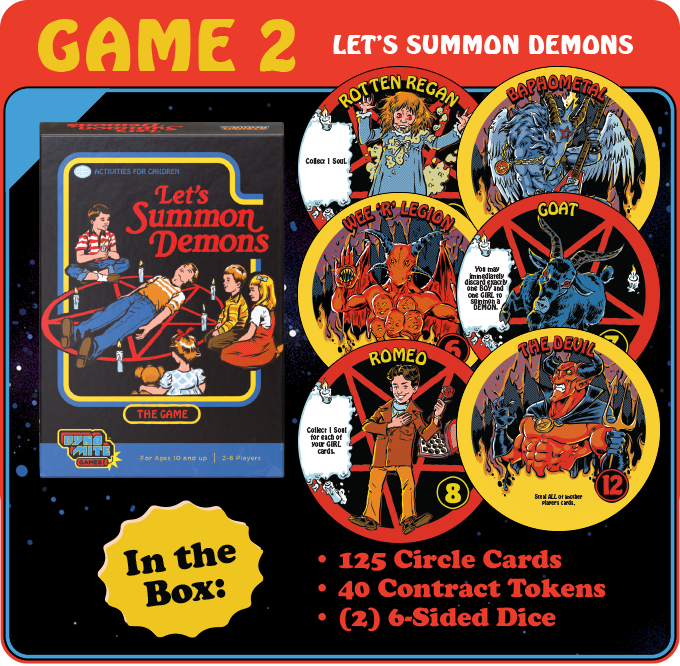 The next game in our trio of hits is Let's Summon Demons.
What are little Johnny, Suzy, and Fido supposed to do to escape the everyday doldrums of suburban life? I know: Let's Summon Demons! Whether you're building sadistic synergies with the "rotten" kids or sharing the love with the "sweet" kids, only the savviest (and luckiest!) player—the best Demon Summoner—will walk away a winner! Each player takes turns rolling dice and trying to match those numbers with kids they have acquired for the summoning circle. Make a match and collect souls, use those souls to get more kids, or save up and SUMMON a demon! The first player to summon three demons wins the game. Almost endless combos and incredible fun take the dice-matching mechanic to the next level. And as always with DYNOMITE Games, you can learn to play in under 5 minutes!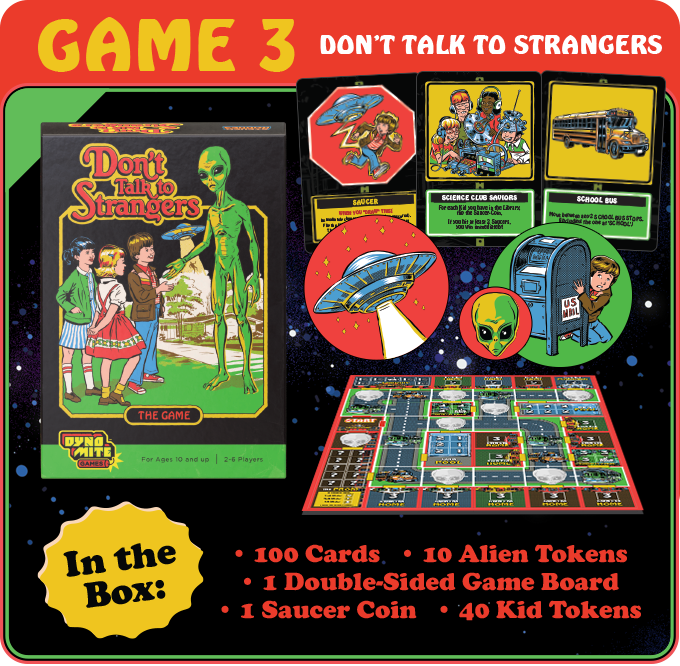 And finally, it's time to play Don't Talk to Strangers.
School's out, but otherworldly STRANGERS are here! Mom and Dad haven't caught on yet, so you're on your own, kiddo. Play your cards as efficiently as you can, helping to navigate your kids one at a time from SCHOOL to a SCORING space—in order to score as many points as you can before the neighborhood is completely overrun with STRANGERS! Featuring a double-sided board for great replayability and fast-paced, movement-based strategy, this game gives players the chance to face off against an alien menace in a wildly fun evening of skateboarding, fence-hopping, and being zapped up by a UFO!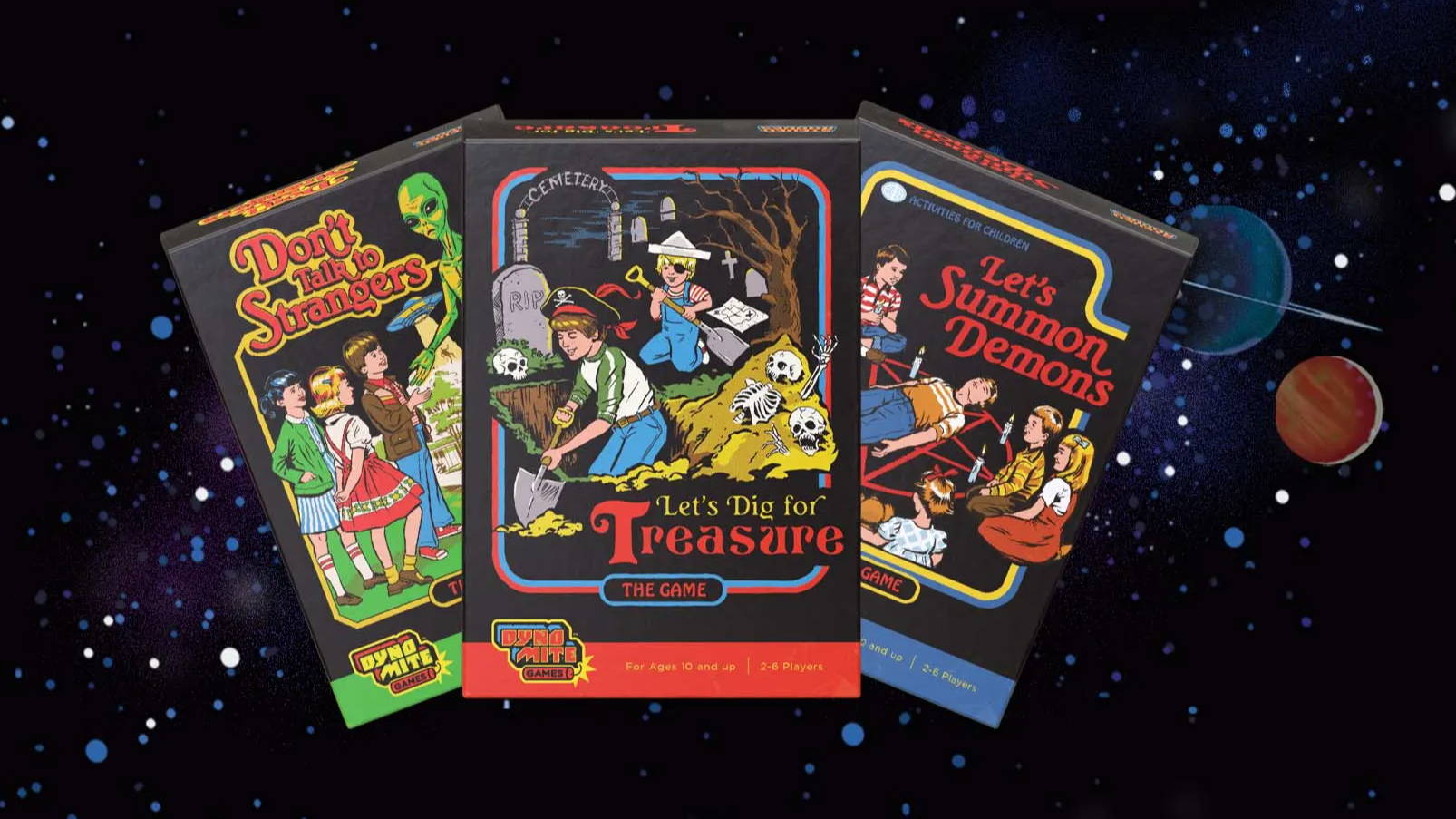 That's the inaugural line-up of Steven Rhodes games, a little something for everyone and super fun, no matter your skill level. And make sure to keep an eye out: We are busy putting together the next set of three Steven Rhodes games right now! Check out the Kickstarter campaign this November!
A version of this article was first published in the July 2021 issue (#257) of Game Trade Magazine (GTM).
---